Ethereum hit 3-week high while the crypto markets rebounded and growing optimism among the investors is brewing but let's first check on the Ethereum price in our ETH news today.
The price of Etheruem jumped by over 8% over the past day and ETH as the second-biggest cryptocurrency by market cap hit $2,392 according to the data from CoinGecko. This is an 8.2% increase over the past 24 hours and a strong rise by 22.9% over the past week. The last time ETH was trading at these levels was on July 7. compared to BTC, it was only flirting with $40,000 and it got up by 20% in one week. Other notable gainers in the day include MATIC which is up 15%, LINK up by 13.4%, BCH up by 12.9%, and DOGE by 12.1%. At that time of writing, ETH was changing hands at $2344.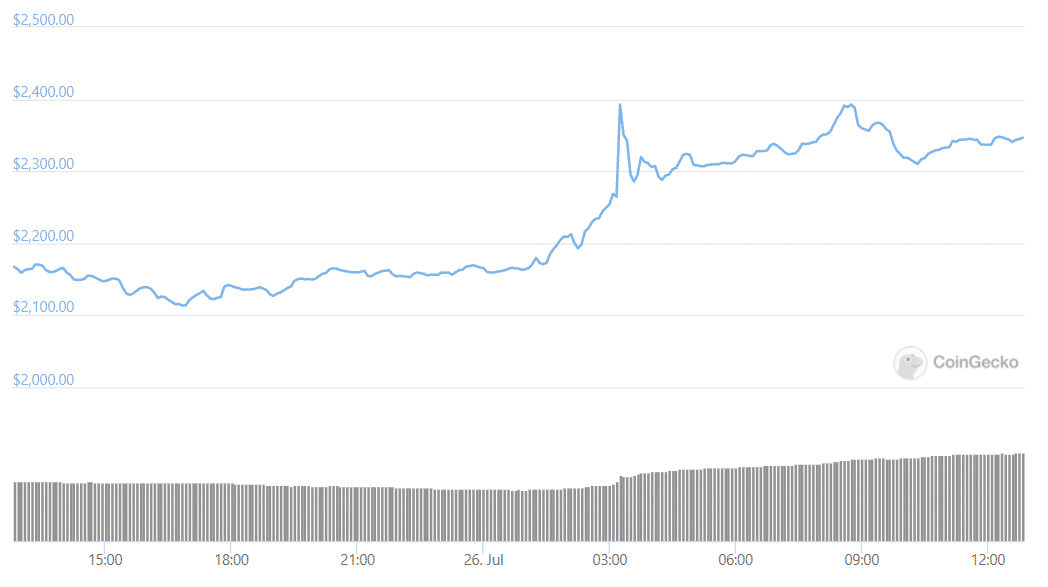 Ethereum hit 3-week high while it was being touted to be the next big thing on the crypto markets with a leaked report from Goldman Sachs suggesting that the platform's real use cases could help it overtake BTC as the dominant digital store of value. The world's second-biggest crypto enjoyed another boost a week after Tesla's CEO Elon Musk revealed that he owns ETH in addition to his BTC and DOGE holdings.
Musk's revelation came during a conversation with Twitter's CEO Jack Dorsey and Cathie Woods of Ark Invest at the B-Word conference with Musk vouching for decentralized finance, the booming crypto sector that encompasses multiple decentralized and non-custodial financial products built on the Ethereum blockchain. On a technical level, Ethereum is preparing for a upcomign upgrade dubbed "London" and it is expected to go live on August 4 with the upgrade containing five Ethereum improvement proposals aimed at optimizing and improving the current proof of work mechanism.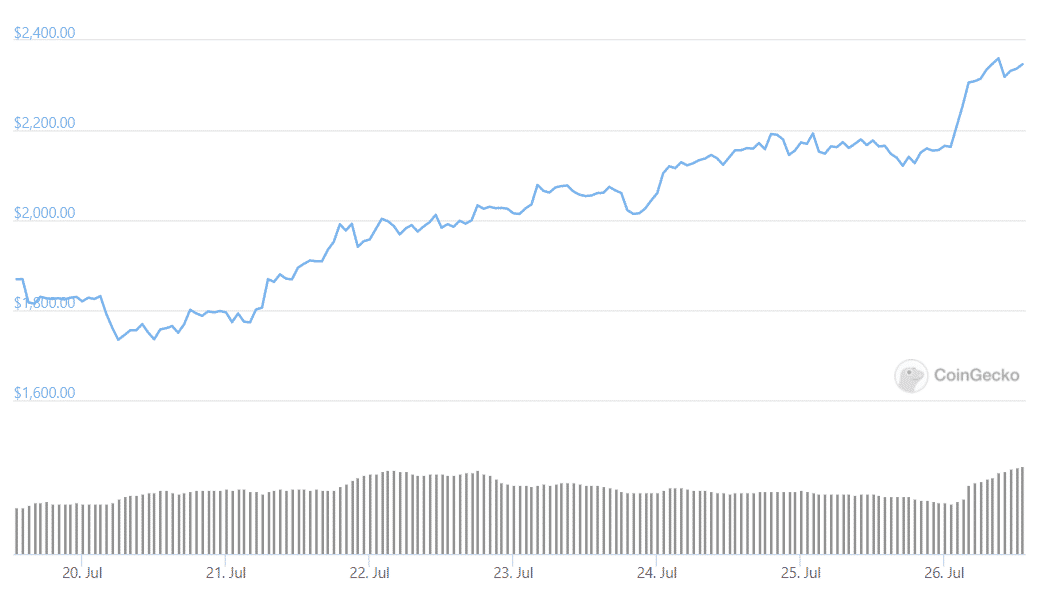 The EIP 3675 proposal is aimed at transitioning Etheruem to a proof of stake consensus algorithm that was announced a week ago. The transition to eTH 2.0 is still a few months away but it is expected that it will result in a higher energy efficient content and a more scalable network.
Go to Source
Author: Stefan